These tables are replicas of tables used in the 1700's. Back then they would have used poplar or pine and pegged them together. Today we use maple, screw them together and peg them. The tables are rated at 250 lbs handling load capacity.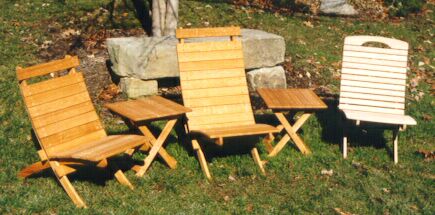 The chairs are made of red and white oak, screwed together and pegged. The fancy oak chair has thinner slats and accentuates the curve more allowing you to sit up straighter. The highback oak chair leans you back more.  The high seat chair sits you up 3″ higher and more upright than the others.  All chairs slide apart for easy storage.
Fancy Oak and High Back Chairs –  $206.00
High Seat Chair –  $216.00
Solid Maple 3′ Table – $248.00
Solid Maple 4′ Table – $262.00
Coffee Tables and Stools, call for current pricing and size.